To start the festival, along with several opening speakers, a local dance troupe will provide a performance of Spain's fiery and passionate dance, the flamenco. And to tempt your taste-buds, a tasty selection of tapas will be included. The Glenella Bar too will be open for drinks. Bookings for the gala opening event are essential. $20 tickets pp.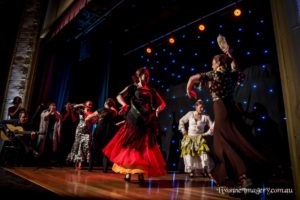 Paella, Trivia and Story Slam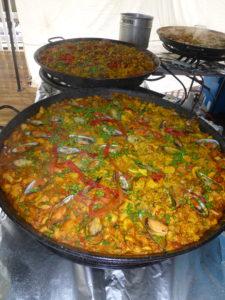 On Saturday night test your Camino and Spanish knowledge at the Trivia night.  Then, for an extra bit of fun there will be a 'camino story slam' – an opportunity for people to share 5-10mins (only) of heartfelt or hilarious stories from their caminos. $20 including paella. Bookings essential.
Our fabulous paella person will be set up in the Glenella back garden on Saturday afternoon from 6pm serving freshly cooked paella.
Glenella Café
Traditional breakfast buffet will be served at Glenella Cafe on Sat from 7-9am and on Sun from 7-10am. Delicious Spanish-inspired cafe food will be available from the Glenella Cafe for lunch on Saturday as well as a special treat – food prepared by the Spanish food workshop attendees will be available for a nominal price too.
Drinks at Glenella Bar
The new Glenella Bar will be offering beer, wine and bubbles for sale along with non-alcoholic drinks from midday until 11pm on Friday and Saturday.
Free Camino Practical Workshops
Several complimentary workshops will be provided on Saturday from 10am to 1pm.  These are a great way to find out all you need to know before embarking on your first Camino.
10am – 11am
Maddie Locke will be talking walking – 'Walking with Ease', which includes the world renowned Alexander technique
11am – 12pm
Digger Kemp, always entertaining and super knowledgable, this year Digger will enlighten us on the topic – 'Packing Light'
12pm – 1pm
Julie-Ann, hospitalero trainer, active Pilgrim and passionate presenter, she will introduce 'Camino for Newbies'
Cooking Workshops
In addition and in parallel there will be three cooking workshops presented on Saturday morning  from 9.30am to 1pm.  Here  you will receive hands-on instruction in
How to cook

Santiago Tart

 (workshop 1 at 9.30am), 

Spanish tortilla 

(workshop 2 at 10.45am to 11.45am)

and  

Fish Roja 

(workshop 3 from 12 to 1pm)

.
Fee to attend these workshops is $10 per person and places are limited to 12 attendees each. So book early and bookings are essential.
A number of speakers will be presenting various topics of interest on Saturday afternoon.  These sessions are free and will be held in Glenella.  Check this website for updates.