AusCamino Festival Background and Profile
Passionate people
In 2013 Margaret and Rowan Bouttell cycled the Camino de Santiago, and were so inspired they decided on a complete change of life and moved to Blackheath to start a new venture – the SportsBunkhouse. This is a new type of hostel in the area modelled on a Camino Albergue. Together with this they bought the heritage listed Glenella Guesthouse.

In Spain

Tony and Ce Jacques walked the Camino in 2014 and were immediately caught by the bug. They have subsequently returned to Spain to complete a further two Caminos.

Blue Mountains Australia Supporters of the Camino

After fortuitously discovering their shared passions for the Camino, Tony, Margaret and Rowan started running monthly Camino events in Blackheath. These have proven to be extremely popular – beyond their wildest dreams – and they have been able to draw people and attract numerous guest speakers from as far afield as the Central Coast, Orange, Canowindra and distant places. The Friday dinners have grown into weekend gatherings and now has an e-mailing list of over 350 people, with 75 people attending the 2016 year-end dinner.

In true Camino spirit, many in the group have stepped forward to volunteer and help with organisation, cooking, setup and to support other ways.

Positive energy abounds.

The birth of the AusCamino Festival

With such enthusiasm and support, the team announced plans to 'go big' and start an annual Camino themed festival. This event aims to attract attendees from all around Australia to come to the Blue Mountains which has proven to have so much to offer pilgrims and prospective pilgrims.

Having the AusCamino Festival in the Blue Mountains facilitates promoting the area as a great place to visit when training for long distance walking. There are many local accommodation and tourist providers who are involved and actively supportive of the growing 'Camino community'. Like-minded people coming together for the fellowship, to meet others, to walk and talk and learn all about the Caminos, about Spain, the food, the equipment, the walking, etc. etc. All things Camino, all things Spanish.
---
The first AusCamino Festival – 2017
Amazing !! It was really hard work to do so much and to deliver it well. As many event organisers will attest, there is never a second to relax. So many people chipped in and helped without even being asked. And somehow, we floated our way through surrounded by all the happy people. It is the people who make it so SPECIAL. What we are doing here is trying to promote a 'Camino culture', and even beyond that – to create a movement. Sue Kenney, one of our speakers on the day expresses it well when she writes about 'living the virtues of being a pilgrim in life'.
Some stats:
Total Festival attendees: approx.. 250 including EXPO & sessions.
Training Walks & popup Albergue: 30 (popup FULL)
Paella Meal and Social evening at Glenella: 125 (FULL)
Sunday Workshops & Classes: 20-25 at each workshop, 30 at cooking class (FULL)
Excursions: 26 approx., visited Blue Labyrinth & talk by Rev Mel
Highlights :
Hospitalero Training offered by Julie-Ann
The 2 day Camino Training Walk arranged by Jerard and Enda
The 13 speaking sessions and presentations, all done by passionate and committed people.
The great food and the atmosphere it created.
---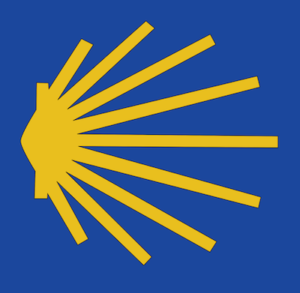 Celebrating all things Camino
---
2017